Automne/Fall 2020
---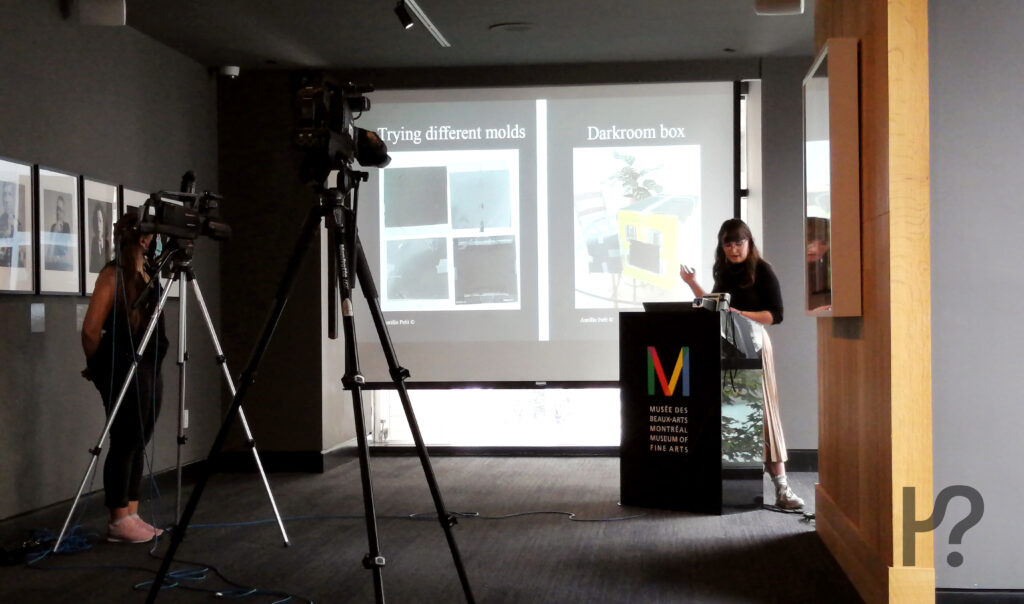 Aurélie Petit (Doctorat, Concordia)
Undead Photography: A Media Archeological Approach to the Handle Kodak Camera
By 1976, the Eastman Kodak Company introduced to the market of instant photography (until then notoriously monopolized by the Polaroid Corporation) its own cameras of the EK and the Kodamatic series. It resulted in a 15-years trial between the two companies. After being forced to remove any instant camera from shelves in 1985, Kodak's future in instant photography was extremely compromised. Moreover, not only cameras were taken out of the market in the United States, but also their film. Without film to function, Kodak's camera became known in history for being almost nothing but a heavy, cheap plastic-based camera obscura.
Using a media archeological approach of the Kodak EK-2 Handle, I will examine how attempting to operate a 1970 discard camera in 2020 raises question on capitalist regulations of media temporality such as, for example, the concept of obsolescence. Looking at the Handle as an object that can be subjected to media excavation, rather than an old non-operating camera whose purpose is long overdue, will lead me to interrogate how the discourse on the history of photography has been written by corporations, and thus can be challenged.
Biography
Aurélie Petit is a PhD student in the Film Studies department of Concordia University. Her current research focuses on the discourses on Japanese animation imagery on online platforms since the early 1990s to the 2020s, with an emphasis on politics and masculinities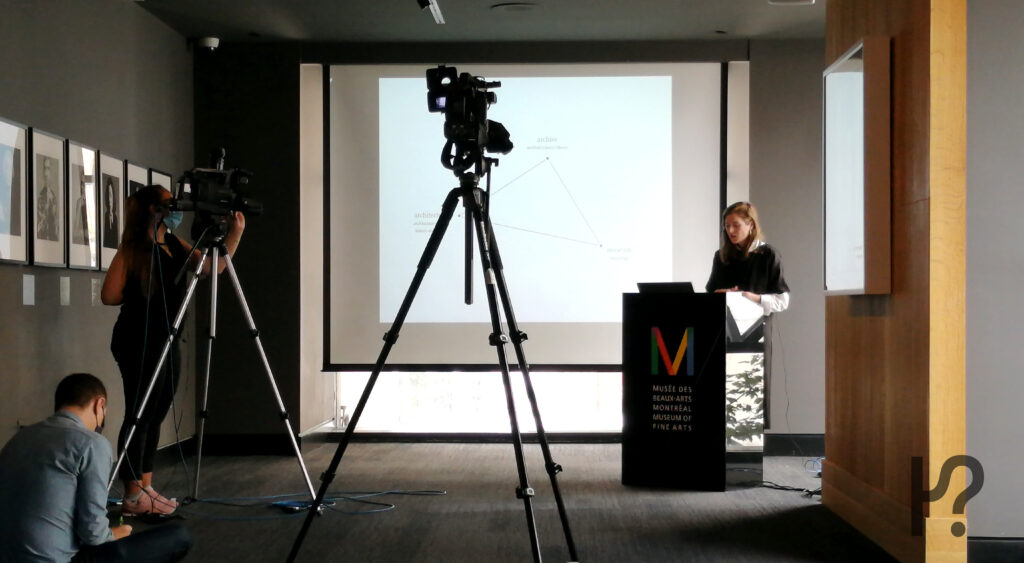 Emilie Banville (Doctorat, UQAM)
Archives Await New Eyes: Toward an Ethnography of Archival Practices in the Curation of Architecture
"An unused archive is not an archive. An archive is only an archive when it is entered, or, more precisely, when things come out". In this quote, architectural historian Mark Wigley (2005) concisely evokes what has recently been referred to as 'productive archives': the idea that archives become meaningful only when activated into dynamic entities, enabling new networks and relationships (Miessen & Chateigné 2016).
In a broader perspective, what has been referred to as an 'archival turn' since the 1990s has shifted discourses from product to process, as well as the idea of archives as repositories documenting history to active and human-constructed objects shaping reality. This changing conception of the archive associated with postmodernist thinking has impacted upon interpretive practices related to curatorial, historical and theoretical research, bringing into question the meaning-making processes through which information is transformed into knowledge within architecture culture.
In a further exploration of the meaning of the productive archive, this paper will discuss the stages of development of my doctoral research, which aims to understand how, since the creation of the International Confederation of Architectural Museums in 1979, curatorial practices in architecture engage with archives while challenging established modes of historical and theoretical knowledge production.
Biography
Emilie Banville is a Montreal-based architect currently pursuing a double doctorate in Museology at the Université du Québec à Montréal and in Architectural History and Theory at TU Eindhoven, where she is a member of the Curatorial Research Collective. Her research focuses on archival practices that challenge knowledge production in the curation of architecture. She is a member of the interdisciplinary and interuniversity research unit CELAT – Cultures, Arts, Sociétiés at UQAM, where she is also a research assistant within the interdisciplinary milieu of the Institut du Patrimoine. She is also coordinator for the peer-reviewed magazine Muséologies: Les cahiers d'études supérieures, and secretary of the board of directors of Portrait Sonore, a non-profit cultural organization that produces immersive podcast documentaries about Canadian cities and their urban fabric. She previously worked as an architect at Provencher Roy and atelier Luc Laporte from 2010 to 2016.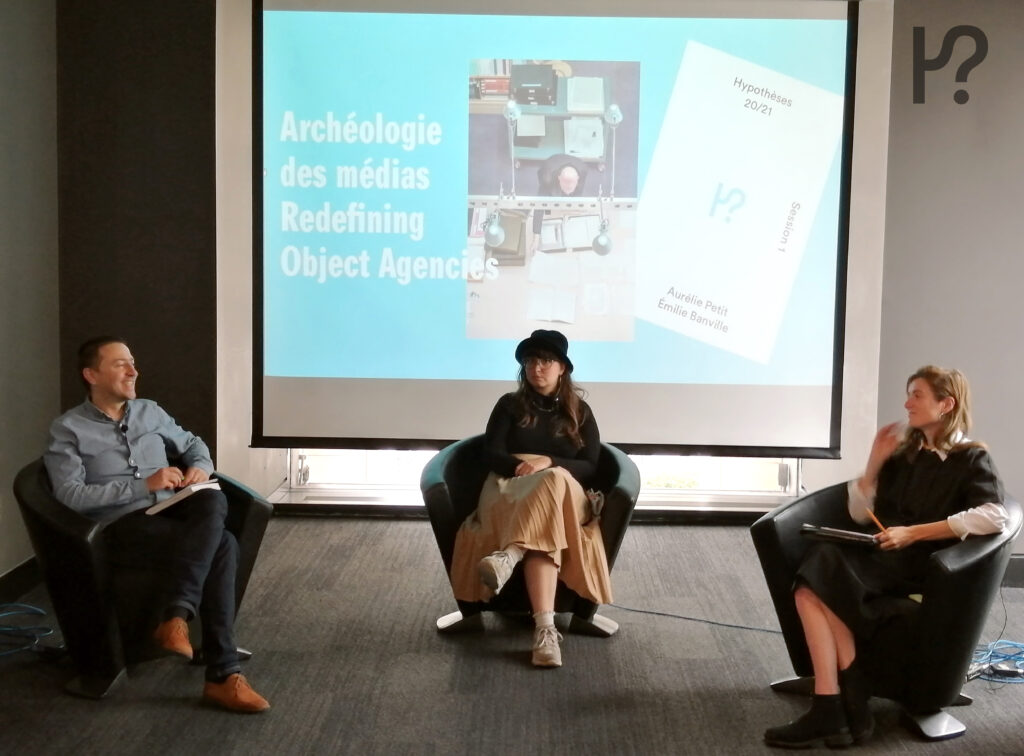 Présidence/Chair: Emmanuel Château-Dutier (Professeur, UdeM)
Emmanuel Château-Dutier est historien de l'architecture et professeur adjoint en muséologie numérique à l'Université de Montréal. Ses recherches portent sur l'administration de l'architecture publique en France au XIXe siècle, la profession d'architecte et l'édition et le livre d'architecture. Ses travaux concernent par ailleurs la muséologie et l'histoire de l'art numérique. Il participe, ou a participé à plusieurs importants projets de recherche collectifs en histoire de l'art plaçant le numérique au cœur de leur réflexion. Il a notamment assuré la direction numérique de l'édition critique des Cours d'Antoine Desgodets, et il est un des collaborateurs principaux du projet des Guides de Paris du Labex les Passés dans le présent. Outre plusieurs plusieurs projets de recherche personnels financés par le CRSH et le FRQSC il participe depuis 2018 à une recherche multidisciplinaire sur les experts parisiens au XVIIIe siècle, soutenue par l'Agence nationale de recherche.
Crédit photo : Benoit Solbes